Its been a really busy week this week, work has been crazy. I was in London on Tuesday for meetings and I also went to a trade show called Top Drawer and I met some really lovely people and companies most of which were children's and Baby brands just starting out, so I'm hoping that in the next few weeks I will get to work with some of them.
Today is my only day off so we try and make the most of it and the girls and I have had really lovely fun packed day. It started at 9 30 with Frog's Chorus run by a fab lady called Duvessa who sings and plays the guitar and the kids think she is brilliant. Rock Baby was shaking her little hips, clapping and grooving away and pop princess was on fire running around the room and singing along.
Straight after we darted to the dentist for a check up and I have to admit I am a total wuss when it comes to dentists but obviously can't show any sign of that in front of pop princess who went first and promptly received her sticker for being a good girl. Me on the other hand has to have two fillings, I quickly told the dentist that I would have it done next time, if only they knocked you out like the dentist in Glee this week.
Talking of Glee I am an official Glee Mama! thanks to the great idea of Little M's Mummy over at
Mummy's Busy World
.Yes it may seem sad but I love the show and it seems I'm not alone there seems to be a little Glee Mama recruitment frenzy going on so if you want to join the gang hop over
here
and you can be the proud owner of a badge like this: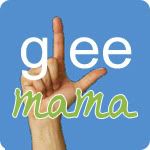 This afternoon Pop Princess had her first swimming lesson on her own! I was nervous for her but she loved it, and the teacher gave her loads of confidence and I'm sure in no time at all she will be brave enough to let go and have have a swim on her own.
Tomorrow I am off to London again to a video shoot, with a lovely client who has an album on in March, so the girls will be dropped off to nursery and then I'm driving down to the city.